A Nonprofit 501(C)(3) Organization in the State of Maryland
White Rose Foundation, Inc.
The women of the White Rose Foundation are committed to serving our community as well as extending our reach to the nation and the world.
A MESSAGE FROM OUR PRESIDENT
Gloria G. Lawlah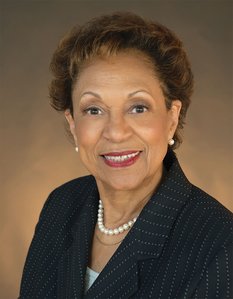 The women of the White Rose Foundation are committed to serving our community as well as extending our reach to the nation and the world. It is a privilege to serve as its president. We were incorporated in December 2005 as a 501(c)(3) entity in the state of Maryland. It also serves as the charitable arm of Prince George's county, (MD) chapter of the links, incorporated which has been a part of this community since 1979.
Annually, the links give thousands of hours of service as well as thousands of dollars to sponsor community service projects to strengthen families and neighborhoods through programs that focus on health, education, and the arts and culture. These include:
Holding workshops and activities to address the high levels of obesity and diabetes that lead to disparities in health outcomes in communities of color;
Implementing programs that provide the knowledge and skills that can strengthen women and families;
Implementing programs that address the special health and economic challenges of seniors;
Promoting and sponsoring cultural arts enrichment programs
Supporting programs that celebrate the rich diversity of our county.
White Rose Foundation has partnered with public and private sector entities at the local, state, and national levels to deliver these programs. WRF and links are also partners with other citizens to advocate for laws, regulations, public policies, and budgets that support and strengthen our families and communities.
In conjunction with community partnerships, we bring much-needed resources to areas of greatest need in Prince George's County. To continue and expand our programs, we are dependent on the generous donations of our member organizations, individual contributors, and grants from the county, state, and federal entities as well as from public and private foundations.
We sincerely appreciate all of those who have supported us in the past and encourage those who have not yet contributed to do so.
Please browse our website for more information about our Programs And Activities.
Sincerely,
GLORIA G. LAWLAH
President
Who We Are
White Rose Foundation of Prince George's County, Maryland (WRF) was organized by A Group Of Women who are passionately committed to using their expansive professional skills and experiences to serve their community.
It was chartered as a nonprofit 501(c)(3) organization in the state of Maryland on December 21, 2005.
The purpose of WRF is to promote health, educational, scientific, cultural, and charitable endeavors that improve the educational, health, economic, and general welfare of the residents of Prince George's County, Maryland.
"….we are seeking private and public contributions to carry out our community service work."
The Mount Rose (Md) Chapter, The Links Incorporated
The Prince George's (Md) Chapter, The Links Incorporated
Fit Healthy Lifestyle Club
Obesity and its related health conditions are major problems in our society. The rise in childhood obesity is particularly alarming. Organizations, corporations, and health care providers are taking steps to address this issue. WRF seeks to address this issue through an initiative titled healthy families—learn the facts—eat healthily and– get active.
Telepharmacy Demonstration Project ​​
This initiative serves seniors at the newly built Belnor senior residency facility in Suitland, Maryland. Objectives are to connect seniors to trusted, licensed clinical pharmacists via the telehealth model for non-emergency medication information.